Business entity to trust for availing long-serving Industrial Bearings like spherical roller bearing, taper roller bearing. SXM bearings are widely used in mining, steel mill, agriculture industry etc. They are approved to be replaced SKF, FAG, TIMKEN etc.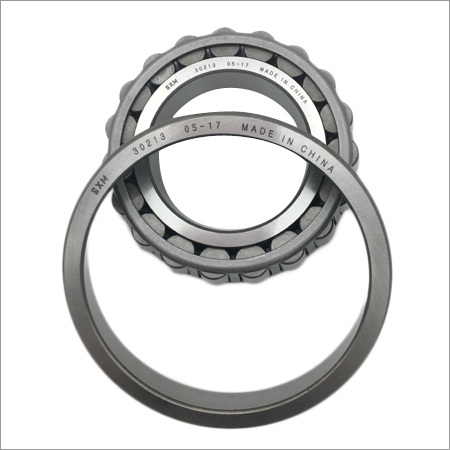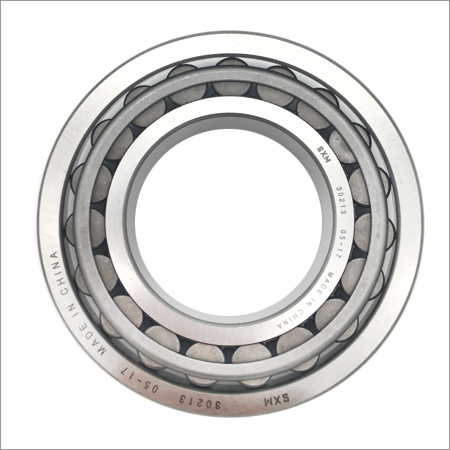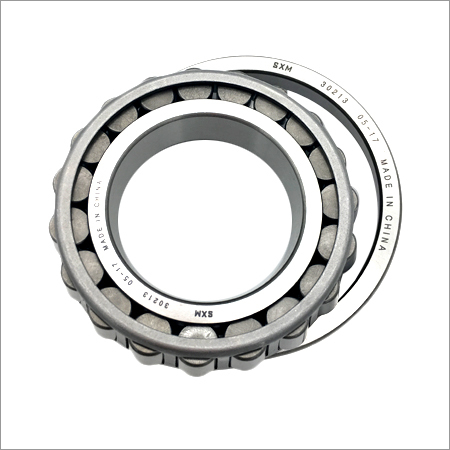 Price And Quantity
1 Piece

10-20 USD ($)/Piece
Trade Information
3000 Piece Per Week

5-7 Days

Yes

Contact us for information regarding our sample policy

All India
Product Description
Specifically designed, Tapered roller bearings are of separable arrangement. They have tapered cone and cup raceway to position the tapered roller. These bearings are suitable for carrying combined load (radial and axial). The tapered roller bearings comprise single, double & four rows. They are easy to fit and maintain. Also, the bearings are engineered for running accuracy. We offer metric as well as inch size tapered roller bearings. A few applications include: automobile engine, gearbox, hoisting equipment, mining machines, etc.
Technical Specification
Bearing Code

Boundary Dimensions

Limited Speed

Cr

Cor

Mass

d

D

B

Grease

Oil

kg

12J150T465

80

140

29

2600

3500

142

224

1.95

30206

30

62

16

6300

8400

43.3

50.5

0.23

30207

35

72

17

5500

7400

54.2

63.5

0.33

30208

40

80

18

4900

6600

63

74

0.42

30209

45

85

19

4400

5900

67.9

83.6

0.47

30210

50

90

20

4000

5300

73.3

92.1

0.52

30211

55

100

21

3600

4900

90.8

113.7

0.71

30212

60

110

22

3400

4500

103.3

130

0.9

30213

65

120

23

3100

4200

120.6

153

1.13

30214

70

125

24

2900

3900

132.3

174

1.26

30215

75

130

25

2700

3600

138.4

185

1.36

30216

80

140

26

2500

3400

160

213

1.67

30217

85

150

28

2400

3200

178

237

2.06

30218

90

160

30

2200

3000

200

270

2.54

30219

95

170

32

2100

2800

227

309

3.04

30220

100

180

34

2000

2700

254

350

3.72

30221

105

190

36

1900

2500

285

399

4.38

30222

110

200

38

1800

2400

315

444

5.21

30224

120

215

40

1700

2200

337

483

6.2

30226

130

230

40

1500

2000

366

521

6.94

30228

140

250

42

1400

1900

409

585

8.73

30230

150

270

45

1300

1700

451

646

10.8

30232

160

290

48

1200

1600

512

739

13.3

30234

170

310

52

1100

1500

591

866

16.6

30236

180

320

52

1100

1400

610

912

17.3

30238

190

340

55

1000

1300

715

1000

20.8

30240

200

360

58

950

1300

675

990

25.4

30244

220

400

65

950

1300

990

1400

40

30306

30

72

19

5700

7600

59

63.1

0.38

30307

35

80

21

5000

6600

75.3

82.6

0.51

30308

40

90

23

4400

5900

90.9

107.6

0.74

30309

45

100

25

4000

5300

108.9

129.8

0.98

30310

50

110

27

3600

4800

130.1

157

1.28

30311

55

120

29

3300

4400

153

188

1.63

30312

60

130

31

3000

4000

171

210

1.99

30313

65

140

33

2800

3700

196

242

2.44

30314

70

150

35

2600

3500

219

272

2.98

30315

75

160

37

2400

3200

253

319

3.57

30316

80

170

39

2300

3000

279

353

4.27

30317

85

180

41

2100

2900

305

388

4.96

30318

90

190

43

2000

2700

342

441

5.8

30319

95

200

45

1900

2500

369

478

6.8

30320

100

215

47

1800

2400

406

526

8.22

30321

105

225

49

1700

2300

433

562

9.38

30322

110

240

50

1600

2200

473

612

11

30324

120

260

55

1500

2000

561

710

14

30326

130

280

58

1300

1800

627

800

17

30328

140

300

62

1200

1700

737

950

21

30330

150

320

65

1100

1600

825

1060

28.5

30332

160

340

68

1000

1500

913

1180

29

30334

170

360

72

950

1400

1020

1340

35

30615

75

165

45

2100

2800

237

366

2.69

31308

40

90

23

5600

7500

85

81.5

0.72

31309

45

100

25

5000

6700

106

102

0.95

31310

50

110

27

4500

6000

122

120

1.2

31311

55

120

29

4300

5600

140

137

1.5

31312

60

130

31

3800

5300

166

166

1.9

31313

65

140

33

3600

4800

190

193

2.35

31314

70

150

35

3400

4500

216

220

2.95

31315

75

160

37

3200

4300

240

245

3.5

31316

80

170

39

3000

4000

260

265

4.05

31317

85

180

41

2600

3800

242

285

4.6

31318

90

190

43

2400

3400

264

315

5.9

31319

95

200

45

2400

3400

292

355

3.95

31320

100

215

51

2400

3000

430

465

8.6

31322

110

240

57

1900

2800

457

585

12

31324

120

260

62

1700

2400

539

695

15.5

31326

130

280

66

1600

2400

605

780

18.5

32007

35

62

18

6100

8100

41.5

52.5

0.22

32008

40

68

19

5300

7100

50

65

0.27

32009

45

75

20

4800

6400

57.5

76.5

0.35

32010

50

80

20

4400

5800

62.5

88

0.37

32011

55

90

23

4000

5400

80.5

118

0.56

32012

60

95

23

3700

4900

82

123

0.58

32013

65

100

23

3400

4600

83

128

0.63

32014

70

110

25

3200

4200

105

160

0.85

32015

75

115

25

3000

4000

106

167

0.91

32016

80

125

29

2800

3700

139

216

1.28

32017

85

130

29

2600

3500

142

224

1.35

32018

90

140

32

2500

3300

168

270

1.79

32019

95

145

32

2300

3100

171

280

1.83

32020

100

150

32

2200

3000

170

281

1.91

32021

105

160

35

2100

2800

201

335

2.42

32022

110

170

38

2000

2700

236

390

3.07

32024

120

180

38

1800

2500

245

420

3.25

32026

130

200

45

1700

2200

320

545

4.96

32028

140

210

45

1600

2100

330

580

5.28

32030

150

225

48

1400

1900

370

655

6.37

32032

160

240

51

1400

1800

435

790

7.8

32034

170

260

57

1300

1700

500

895

10.5

32036

180

280

64

1200

1600

645

1170

14.5

32038

190

290

64

1100

1500

655

1210

15.1

32040

200

310

70

1100

1400

800

1470

19.3

32044

220

340

76

960

1300

920

1690

25

32048

240

360

76

870

1200

930

1760

26.8

32206

30

62

20

6300

8400

51.8

63.7

0.28

32207

35

72

23

5500

7400

70.6

89.5

0.44

32208

40

80

23

4500

6000

77.9

97.2

0.55

32209

45

85

23

4200

5500

80.7

104

0.6

32210

50

90

23

3800

5000

82.8

107.6

0.64

32211

55

100

25

3300

4500

108

142.3

0.87

32212

60

110

28

3200

4200

133

180

1.1

32213

65

120

31

2800

4000

161

222

1.5

32214

70

125

31

2700

3800

169

237

1.68

32215

75

130

31

2500

3500

170

242

1.7

32216

80

140

33

2300

3200

198

279

2.1

32217

85

150

36

2200

3200

227

324

2.7

32218

90

160

40

2000

3000

270

396

3.4

32219

95

170

43

1900

2800

303

448

4.3

32220

100

180

46

1800

2600

341

512

5.1

32221

105

190

50

1700

2500

381

579

6.2

32222

110

200

53

1700

2400

432

666

7.1

32224

120

215

58

1600

2200

468

695

9.15

32226

130

230

64

1500

2000

550

830

11.5

32228

140

250

68

1400

1900

644

1000

14.5

32230

150

270

73

1200

1700

737

1140

17.5

32232

160

290

80

1100

1600

880

1400

25.5

32234

170

310

86

1000

1500

1010

1630

28.5

32236

180

320

86

950

1400

1010

1630

29.5

32238

190

340

92

1000

1300

1000

1670

33.3

32240

200

360

98

950

1300

1150

1970

43.6

32244

220

400

108

1100

1500

1610

2700

60

32248

240

440

120

1000

1400

1790

3350

83.5

32306

30

72

27

5700

7600

81.6

96.4

0.56

32307

35

80

31

5000

6600

99

118.3

0.76

32308

40

90

33

4200

5700

115

147

1

32309

45

100

36

3800

5100

145

180

1.4

32310

50

110

40

3400

4600

177

236

1.9

32311

55

120

43

3100

4200

203

271

2.4

32312

60

130

46

2800

3800

226

303

3

32313

65

140

48

2600

3500

260

340

3.6

32314

70

150

51

2400

3300

198

408

4.4

32315

75

160

55

2200

3000

345

480

5.3

32316

80

170

58

2100

2800

386

543

6.1

32317

85

180

60

1900

2700

421

592

7.1

32318

90

190

64

1800

2500

478

683

8.5

32319

95

200

67

1700

2300

516

737

10.1

32320

100

215

73

1600

2100

600

872

13.01

32322

110

240

80

1400

1900

627

830

17

32324

120

260

86

1300

1800

792

1120

21.5

32326

130

280

93

1100

1600

858

1180

30.5

32330

150

320

108

950

1400

1170

1660

46

33008

40

68

22

5300

7100

59.5

82.5

0.31

33009

45

75

24

4800

6400

66

83.5

0.4

33010

50

80

24

4400

5800

69.5

103

0.43

33011

55

90

27

4000

5400

91.5

138

0.64

33012

60

95

27

3700

4900

93.5

145

0.68

33013

65

100

27

3400

4600

97.5

156

0.73

33014

70

110

31

3200

4200

127

204

1.07

33015

75

115

31

3000

4000

129

212

1.13

33016

80

125

36

2800

3700

173

284

1.6

33017

85

130

36

2600

3500

176

296

1.7

33018

90

140

39

2500

3300

215

360

2.18

33019

95

145

39

2300

3100

219

375

2.27

33020

100

150

39

2200

3000

224

390

2.37

33021

105

160

43

2100

2800

245

420

3

33022

110

170

47

2000

2700

288

500

3.8

33024

120

180

48

2600

3400

292

540

4.2

33030

150

225

59

2000

2600

457

865

8.15

33108

40

75

26

5200

6900

79.5

103

0.39

33109

45

80

26

4700

6200

84.5

115

0.54

33110

50

85

26

4200

5600

86.5

121

0.58

33111

55

95

30

3900

5200

111

155

0.85

33112

60

100

30

3600

4700

113

164

0.91

33113

65

110

34

3300

4400

144

211

1.28

33114

70

120

37

4000

5300

172

250

1.7

33115

75

125

37

3800

5000

176

265

1.8

33116

80

130

37

3600

4800

179

280

1.9

33117

85

140

41

3400

4500

220

340

2.45

33118

90

150

45

3000

4300

251

390

3.1

33120

100

165

52

2800

4100

325

523

4.29

33121

105

175

56

2600

3800

360

607

5.33

33122

110

180

56

2600

3400

369

630

5.55

33124

120

200

62

2400

3200

462

785

7.73

33207

35

72

28

5500

7400

87.5

109

0.53

33208

40

80

32

4900

6600

103

132

0.73

33209

45

85

32

4400

5900

107

141

0.78

33210

50

90

32

4000

5300

115

158

0.85

33211

55

100

35

3600

4900

138

188

1.15

33212

60

110

38

3400

4500

167

234

1.55

33213

65

120

41

3100

4200

195

265

1.98

33214

70

125

41

2900

3900

201

282

2.1

33215

75

130

41

2700

3600

208

298

2.2

33216

80

140

46

2500

3400

250

365

2.92

L30311

55

120

29

2700

3500

129

158

1.67

L30313

65

140

33

2600

3500

196

242

2.44

L30314

70

150

35

2400

3300

219

272

2.98
Enter Buying Requirement Details
Other Products in 'Taper Roller Bearing' category